FEATURED ARTISTS
AIMEE
BLACK ROSE
DANY AND DANY
DAVID SEXTON
GOBLIN
GWEN
HELGA
HIROKO
JADE
KASH AND SHAGZ
KSENIA
MARY
MELISANTE
MICHEL
SARAH
SIMON
SYZYGY
TANYA KOZIK
UDOH
HINOHARA
ULERICA
WHITE MIST

"Lestat, ever the maverick and the laughing trickster. Six feet tall, a young man of twenty when made, with huge warm blue eyes and thick flashy blond hair, square of jaw, with a generous beautifully shaped mouth..." ~ Armand, TVA.

"I looked at the young blond-haired rake in the mirror. 'Well, if it isn't the vampire Lestat,' I said." ~ Lestat, TVL.

This project aims to collect in one place the best artworks inspired by Lestat de Lioncourt, the hero of Anne Rice's Vampire Chronicles. Please use the menu to the left to navigate.

With many thanks to Dark Angel whose ideas inspired this site and to all the talented artists who kindly allowed me to display their work here ~ Marc

Please note: copyright to all the artwork contained here belongs to the artists alone! Which means - if you want to use any of the pictures, ask the artist first! Thank you.
PICTURE OF THE MONTH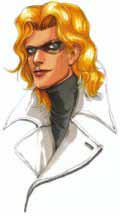 Lestat by WhiteMist